Renew Your Upper Arms through Personalized Brachioplasty
If you are concerned that your upper arms are sagging or beginning to show signs of aging, Dr. Stephen P. Hardy can perform a personalized brachioplasty, also known as an arm lift, at his Polson, MT, practice. Brachioplasty removes loose skin and re-sculpts tissue for a more youthful, firm, and attractive upper arm area. Depending on the type of arm lift selected, your incisions could run from the underarm to above the elbow. In some cases, liposuction may also be performed to remove excess fat.
What Are the Benefits of an Arm Lift?
Dr. Hardy is passionate about helping his patients feel more confident about their appearance. Some of the benefits you can experience after brachioplasty include:
Smooth, toned, and sculpted arms
More clothing options, such as short-sleeve and sleeveless tops
Increased confidence during exercise or other physical activities, without being self-conscious of your arms
Boost in confidence and, as a result, quality of life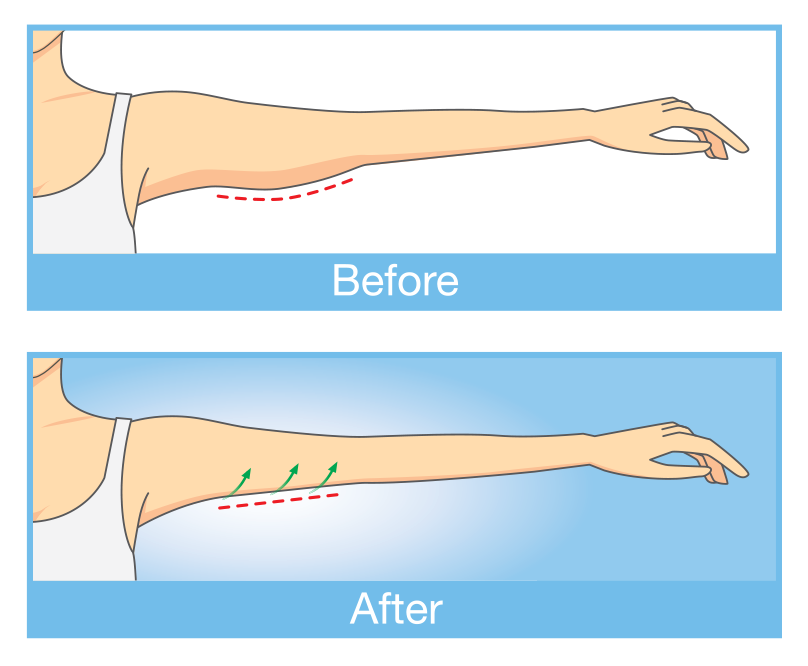 Do I Qualify for Brachioplasty?
If you have excess skin or tissue on your upper arm, you are most likely a good candidate for arm lift surgery. It is important that you:
Are in good overall health, with no serious medical conditions
Are at a stable weight
Possess good skin elasticity
Can tolerate anesthesia
Are a non-smoker
What to Expect: Before, during, and after
Each patient we treat is different, which is why it is very important to Dr. Hardy that your cosmetic treatment is customized just for you. During your initial consultation, he will review your medical history, conduct any necessary lab tests, and discuss your arm lift options. Typically, the procedural steps for an arm lift involve:
Surgical Preparation: It is important that you follow Dr. Hardy's surgery preparation instructions carefully. They will include refraining from smoking for at least four weeks and avoiding certain medications.
Anesthesia: Immediately before your procedure, Dr. Hardy will administer anesthesia to ensure your comfort during surgery.
Making the Incisions: Your incision lengths will depend on the type of arm lift procedure chosen. If you have a lot of excess skin, Dr. Hardy will make an incision near the elbow along the inside of the arm, up to the underarm. If you have excess tissue, Dr. Hardy may also perform liposuction. Once the incisions have been made, he will tighten and reshape the tissue and skin around the muscle. He will then carefully remove excess skin, making sure your scars are as discreet as possible.
Closing the Incisions: Once the excess fat or skin has been removed, Dr. Hardy will carefully close the incisions with sutures and bandages. Your sutures can usually be removed one to two weeks after surgery.
Recovery and Results: Although an arm lift is considered an outpatient surgery, you will need to have someone drive you home and stay with you for the first couple of nights. You may experience some pain, bruising, and swelling for the first few weeks, but you will notice firmer arms almost immediately.
Possible Risks
Although there are many benefits to undergoing cosmetic surgery of any kind, there are risks involved as well. These can include infection, excessive bleeding, scarring, or unsatisfactory results. During your initial consultation with Dr. Hardy, he will review these risks with you, so that you are fully informed.
A lifestyle that promotes good overall health, including proper nutrition and exercise, is crucial in maintaining optimal results.
It is also important that you view your procedure as one step in a journey toward a whole new healthy lifestyle. A lifestyle that promotes good overall health, including proper nutrition and exercise, is crucial in maintaining optimal results.
Plan Your Arm Lift Procedure Today
An arm lift at Northwest Plastic Surgery Associates can result in a smoother and more toned look of the upper arm area. To learn more about brachioplasty, contact us today and schedule your consultation.